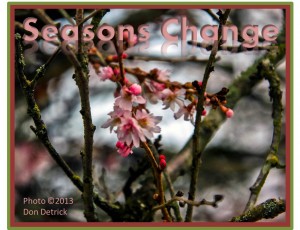 Yesterday March came in like a lamb as I observed the first blossoms on a flowering plum tree. This is an annual spring rite of passage for me as I eagerly anticipate some sign of winter's icy grip loosening upon the landscape. Normally I catch a glimpse of a blossom in February, this year things seemed a little late.
If you are like me, you'd like to be able to control the schedule. Yet just as we cannot control the turning of the hands on a clock, so we cannot control the turning seasons in nature, or the seasons of our lives. Seasons change. Someone wrote, "The foliage of spiritual journey changes through our times of turning as well. But what remains, what abides, is that place where our lives join to Christ."
Our ever-turning and ever changing lives can find a point of reference in the words of that great hymn, "Great is Thy faithfulness. . .there is no shadow of turning with Thee. Thou changest not. . .."
Human beings are prone to twists and turns in our minds. As these thoughts tumble around in our cranium, we make decisions that result in twists and turns in our journey through life. We may follow the path we believe will lead us to the fulfillment of a specific dream for a time, only to discover there is no pot of gold at the end of that rainbow. Disappointed by our miscalculations, we formulate a new dream destination, and chart a new course in that direction.
These detours in our journey are not necessarily a bad thing. In fact, without the inspiration of a dream we may have little vision for the future, and low levels of motivation to move beyond where we sit. While some enjoy the stability of a comfortable life in familiar surroundings, others chafe to move on. For them, being stuck in one place eventually triggers fermentation of the soul as the frustration of being stuck turns into despondency. Feeling trapped by their circumstances, they turn their attention to a new challenge and chart a new course toward that elusive goal.
Eventually, many come to believe that success in achieving the dream is an elusive goal. Losing confidence in their own abilities, and losing hope as well, they resign themselves to what Thoreau described as, "The great mass of men live lives of quiet desperation." Our disappointments, late arrivals, twists and turns can seem to veil the joy of the journey if we allow them to block out the light of the sun.
It is easy to get lost in darkness and shadows. But the clear light of day shines light on our path to navigate the twists and turns along the way. Although I'm taking a bit of liberty with the context, 2 Corinthians 3:16 provides a great reminder of our marked point of reference, "Whenever anyone turns to the Lord, the veil is removed."
Twists and turns need not deter nor detour our journey. As we keep turning toward the Lord, we reflect more of His image. Thus, some may catch a glimpse of the Lord through the light we reflect. Better the Lord's light than our own shadow side. "So all of us who have had that veil removed can see and reflect the glory of the Lord. And the Lord—who is the Spirit—makes us more and more like Him as we are changed into His glorious image."   (2 Corinthians 3:18  TLB) Seasons change. We encounter twists and turns along the way. But like those first blossoms of spring, we can be reminded of the hope and light of the Lord when we remember to always turn toward Him.