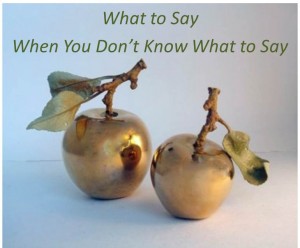 Silence is golden, and there is a time to be quiet. But at other times knowing the right thing to say at the right time is even better. The writer of Proverbs says, "Timely advice is lovely, like golden apples in a silver basket." (Proverbs 25:11, New Living Translation) There have been times in my life when the kind words of a friend (or even a stranger) bolstered my sinking spirits as I grasped them like a drowning man clinging to a life preserver.
Having spent most of my life as a pastor, walking beside people through some of the toughest moments of their lives, I felt the tension between the need for silence and the need to say something spiritual or intelligent (when I did not feel either) during a crucial moment. Even at the risk of sounding clichéd, a word sincerely spoken can make a difference. So, for what it's worth, here are some simple words I've collected over the years; phrases to sincerely say when you don't know what to say.
"May I pray for you right now?"
"I am here for you, my friend."
"I have complete confidence in you."
"I am your biggest fan!"
"What can I do to help?"
"You do that really well."
"How are you, really?"
"What you said helped me."
"Where would you rather be right now, and what would it take to get there?"
 "What is stopping you from. . .."
"It is amazing the way you. . .."
"I was wrong."
"I am so sorry."
"I'm cheering you on."
"I appreciate the way you. . .."
"Tell me about your:  day, job, kids, etc."
"Please forgive me."
"I still love you."
"God is big enough to. . .."
"I am really proud of the way you. . .."
"You're really growing."
"Could you come to:  dinner, dessert, coffee?"
"I missed you."
"I'm so happy for you."
"I prayed for you today."
"That must have been very difficult for you."
"I'll be glad to!"
"You have a way of making people feel special.  Thanks."
"What is one thing I could do to help relieve some of your stress?"
"I'm not sure I would be doing as well as you are.  How are you making it?"
"I admire the way you. . .."
"Is there something I can pray with you about?"
"You are really making a lot of progress!"
"I'll give you a call tomorrow to see how you are doing. Is that OK?"
"I treasure the moments we get to spend together."
"Thinking about you always puts a smile on my face."
I am sure you can think of your own favorites to create a silver basket full of golden apples for a friend in need. Sometimes words are not necessary, like when a hug or a shared tear do a far better job of conveying how much you care. But there is nothing wrong with being prepared for those times when you struggle to know what to say when you don't know what to say.