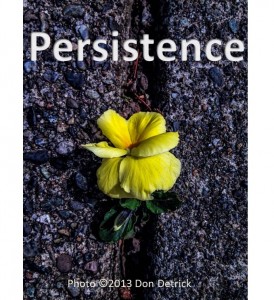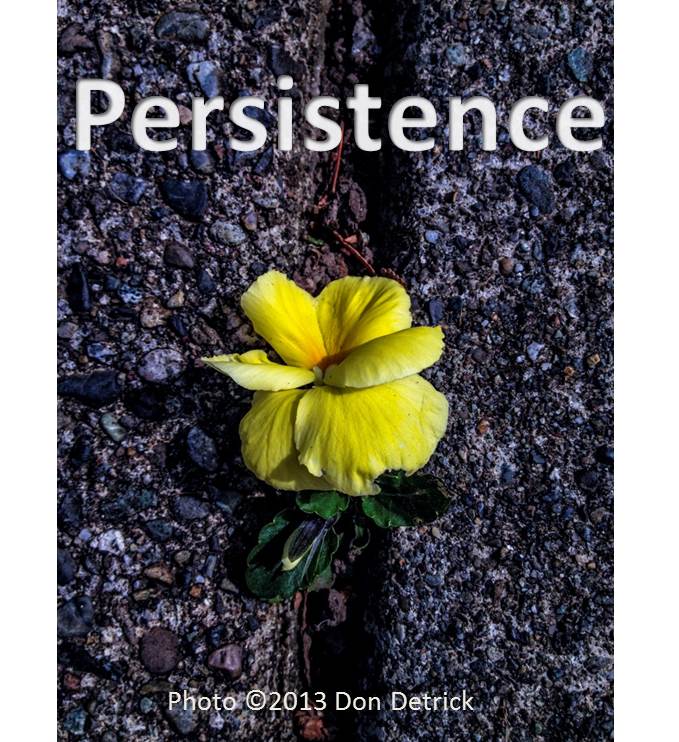 I did a double take when I saw it. A single yellow pansy blooming in the driveway. Certainly nobody planted it there, yet somehow a seed took root. And there it was, its sweet pansy face peeking up from a crack in the concrete. I had to stop and take a photo of a literal "bloom where you are planted" story.
How often do I complain about how the present location isn't ideally suited to take root, bloom, and produce? Or maybe the timing isn't right. Or maybe I just don't have enough time. Besides, everybody knows you can't grow pansies in concrete cracks. Of course, weeds seem to flourish there. But here was a pansy staring me in the face and reminding me that against all odds, and even without ideal circumstances or conditions, blooming is indeed a possibility. The flower's beauty and contrast with its harsh concrete surroundings was both stunning and defying the logic of my conventional wisdom.
Persistence. Patience. Possibility. These are the makings of everyday miracles. Stick with it. Don't give up. And don't stop believing. What do Olympic athletes have in common? Certainly some degree of natural skill and ability. Beyond that, they stick with it. They don't give up. And they don't stop believing they can win. In spite of the daily grind requiring long hours of practice, blistered bodies, bruised egos, and tired muscles, they persevere. And the most persistent usually take home the gold.
The same could be said for virtually every worthwhile pursuit. You could become proficient in a foreign language by studying a few minutes a day. Every day. For a long time. You could become a good pianist if you take lessons every week, practice 30 minutes every day, and do so over an extended period of time.
You'll need to up the ante if you want to become a concert pianist, and very few do–really want to, that is. Because if you just want to a little, it won't happen. You have to want to a lot, and then act accordingly. Persistently. Consistently. For a very long time. Despite less than ideal circumstances. Despite distractions. Despite sacrificing personal comfort.
What do you want to do? What is keeping you from accomplishing that dream? Persistence. Patience. Possibility. You can do it. You can find freedom from your circumstances and limitations. Just look at the photo of the pansy emerging from its concrete prison and let your dreams bloom right where you are planted. God, who specializes in making the impossible possible, can help you overcome adversities that you cannot conquer on your own.
It's not an easy road. Easy roads are paved with good intentions and filled with potholes of adversity. Easy roads have weeds growing in the cracks. The road less travelled is paved with persistence, patience, and possibility. The potholes of adversity are still there, but the traveler choosing that route might just be greeted with the face of an unexpected pansy along the way.