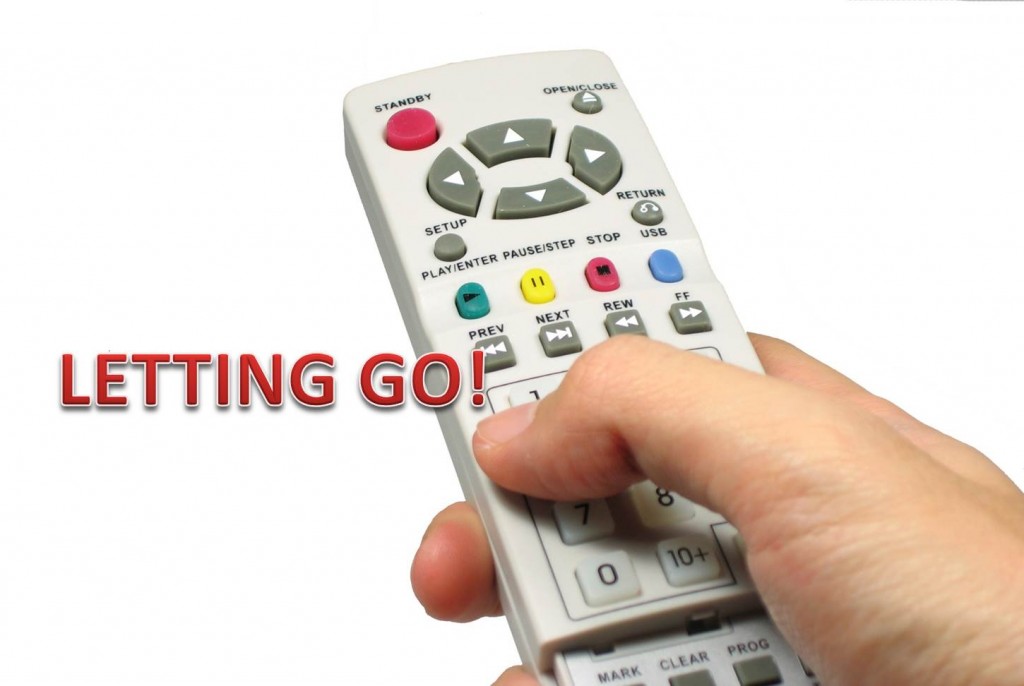 "Put down that remote control. Now! Yes, I'm talking to you. Even if you are a male. Especially if you are a male. Put it down, slowly, on the coffee table. Then step back."
Hard to do isn't it? We've all watched siblings or spouses wrestle over the remote control. Nobody wants to wrestle to a draw. Everybody wants to wrestle to win. But what if the person you're wrestling with is yourself?
Giving up control is seldom easy. Neither is losing. Unless by losing you are actually gaining. Like the times you might have lost at a game or something you knew you could easily win. Instead, you let somebody else win because you knew losing at that moment was actually winning. Winning a friend, or winning the heart of a child, or winning the wrestling match between your humility and your selfish pride. Tough choice to make, but often worth it. Because keeping your hand on the remote control is not the most important thing.
We come into this world crying with a closed fist. We generally leave with a final sigh and an open hand. What if we lived every day in between our first and last with an open hand? Instead of being grabbers, what if we moved toward opportunities for letting go?  Instead of trying to get at the head of the line, the closest parking space, the corner office, how would it feel to let it go?
"What a loser of an idea," you might conclude. Taken to an extreme, I would agree. But most people don't take it to an extreme. Most of us have to daily make a conscious effort to even think a little about others. Because we default to think a lot about ourselves. We are hardwired to think like a crying, grasping baby. Only maturity and an awareness of God's grace makes us think more like Mother Teresa. What if we took a bit more seriously these words from the Bible?
"Do nothing out of selfish ambition or vain conceit. Rather, in humility value others above yourselves, not looking to your own interests but each of you to the interests of the others. In your relationships with one another, have the same attitude of mind Christ Jesus had: Who, being in very nature God, did not consider equality with God something to be used to his own advantage; rather, he made himself nothing by taking the very nature of a servant, being made in human likeness. And being found in appearance as a human being, he humbled himself by becoming obedient to death— even death on a cross!" (Philippians 2:3-8 TNIV)
Remote. Control. What do those words really mean? I think they mean "distant" and "demanding." Not qualities we normally admire. Quite the opposite of Jesus who humbly drew near the human race by becoming one of us, and took on "the nature of a servant." Even though he could have been a "remote control" God, he did not choose to do so. Relationships thrive, not when we are distant and demanding, but when we draw near and serve one another.
"Put down that remote control." Trust me, you'll feel better if you do. Let somebody else win that wrestling match. What you gain will be so much more than what you lose.