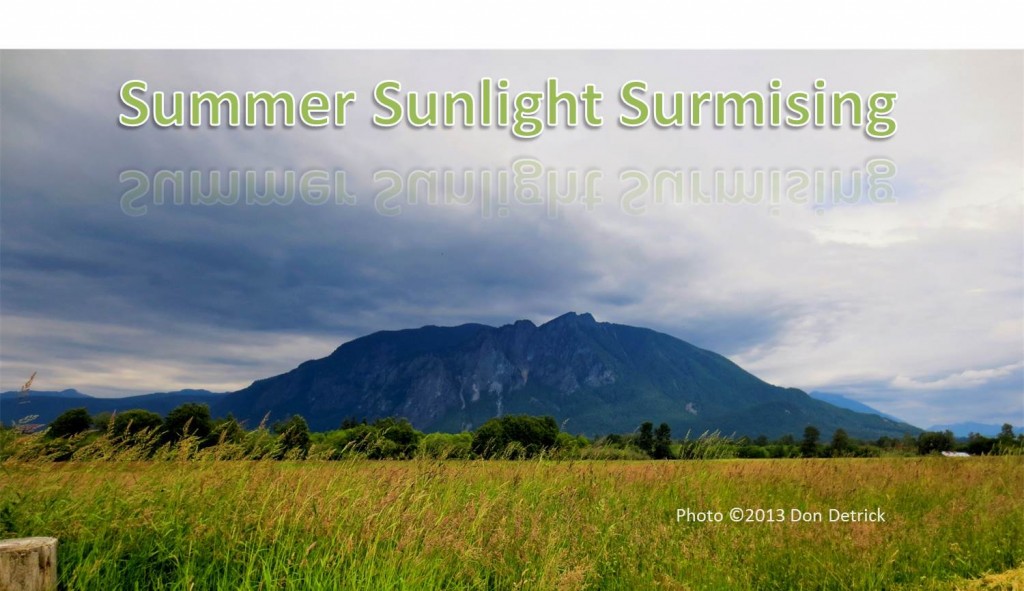 Today is the first official day of summer, although you wouldn't know it here in our part of the Pacific Northwest. The clouds concealed the sun all day, the temperature is in the low sixties, and rain threatened to upset summer solstice celebrations. But no worries! We NW natives know enough to ignore the calendar. Summer arrives when it decides to on its own leisurely schedule, usually after the 4th of July. And it is worth the wait.
I love summertime. During the summer months, an open window at our house is better than playing a "sounds of nature" CD. That open window channels a soothing symphony of birdsong indoors, performing from dawn's early light until the twilight's last gleaming. Compared to the winter's moaning wind and the staccato beat of rain against the glass, I'll take an open window in summer anytime.
Summer days mean more daylight hours to work harder and play longer. More sunshine means more colorful growth of plants and flowers. Melons, nectarines and cherries – rare gems in the wintertime diet – are as common on the table as sand on the beach in summer. Wildlife, camouflaged by fall and winter's muted colors, suddenly appear with the summer sun. Bunnies, squirrels, deer, and elk frequently visit our community, along with an occasional bear. Accompanied by their young, they provide a visual testament to the circle and cycle of life's seasons.
And the aromas of summer are something to die for. Backyard barbecues produce a savory, smoky appetizer every time you take a breath. Berries, roses, and freshly mown lawns or hay all blend together to form a fragrant medley that satisfies the senses. Summertime provides a glorious palate of sounds, sights, and smells, forming a delightful contrast to the stark gray of winter.
In our part of the world, summer slips away pretty fast. Winter means cold and rain, resulting in rust, mold, mildew, and mud. Thus, summer is a season of restoration – a few frenzied months of growing, cleaning and painting to erase the stains of winter before it once again becomes an exercise in futility to do so.
In the same way, summer is a good time to make a careful examination of our souls. Our lives pass through seasons as well. Sometimes the winter's blast leaves behind marks that endure much longer than they should, scarring our souls and hardening our hearts in the process. The light of God's Word reveals the wounds in our souls; much like the light of summer reveals the marks winter left behind.
Summer is an excellent time to bask in that light and reflect on life in a more leisurely fashion. As we do, we may notice that sometimes we need restoration because of marks we ourselves have made. We run the red lights, crash and burn. Other times, we have been burned, wounded by others or circumstances.  Either way, we need restoration.
Rainy days come, even in summer. Life often brings discouragement. Circumstances can get the best of us and rob us of our contentment and joy. This is not unexpected. In fact, when speaking about difficult circumstances Jesus said, "These things I have spoken to you, that in Me you may have peace. In the world you will have tribulation; but be of good cheer, I have overcome the world."  (John 16:33 NKJV)
But did you ever notice how much happier people are when the sun is shining?  Many people believe that an absence of sunshine, particularly during dark, winter months, can lead to depression. There is even a clinical term for this: SAD, or seasonal affective disorder. In simplest terms, the prescribed therapy is more exposure to light.
Light affects our bodies' melatonin and serotonin levels. These chemicals carry messages to the brain and affect our moods and sleep. Melatonin is associated with darkness and helps us sleep. Studies have shown serotonin is associated with sunlight and helps us feel calm, alert and happy.
Like the summer sun warms our spirits and makes us joyful, the Son of God brings us joy by His presence. John wrote, "God is light and there is no darkness in Him at all."  (1 John 1:5 NLT) So while I wait for sunnier days beyond the official first day of summer, I enjoy the anticipation and bask in God's presence. Summer is coming, and I can hardly wait!