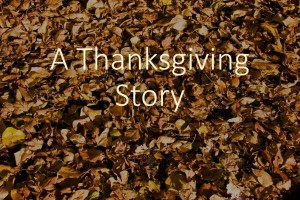 Ten men huddle around an open fire on a chilly evening.  Their eyes are hungry with anticipation as they study the meager contents of a simmering pot, their only meal for the day.  These are hard times, and food is scarce – especially for them.
"I heard he's coming tomorrow," one of the ten, a rabbi, states.
"You mean the Galilean, the one they call Jesus of Nazareth?" asks another.  The questioner is from Samaria, a sandalmaker by trade.  Samaritans are a common enough sight in this border town between Galilee and Samaria.
"Yes, he's the one" answers the rabbi.
A small gust of wind fans the flames to illuminate the face of the man next to the Samaritan.  His visage is scarred, almost grotesque.  His nose, or what was once his nose, is now a protruding ulcer.  He struggles to breathe through his mouth. Large spots of raw flesh randomly appear between patches of beard.  He speaks next, with some difficulty.   "I've heard of him.  They say he is a miracle-worker.   I believe in miracles, although I can't say I've ever seen one myself.  We Pharisees have always believed in miracles.  Why, the Scriptures abound with stories about miracles and angels and the like.  I remember the stimulating discussion on the subject I had with a Sadducee in Jerusalem a few years ago.  But that was before . . . ." his voice trails off as another begins to speak.
"Well, that's easy enough for you to say.  After all, you've always had a smooth life – up until now anyway.  But I've always had to earn a living by the sweat of my brow.  Nobody could ever say that this Galilean potter wasn't a hard worker.  The only miracle I've ever seen was one I made with my own two hands."  He holds up his hands and in the glow of the fire one wonders how those hands could ever have produced anything of beauty or value.   They are deformed and ugly – worthless for any meaningful work.  Only one finger is recognizable on one hand, two on the other.  In silent anguish, he lowers them to his side, despising their uselessness.
A break in the clouds reveals a full moon and for a moment a clear picture of the ten shadowy figures appears.  It is not a sight for the weak-stomached.  For each one seems to be a victim of some great physical disaster.  Perhaps a terrible accident, or a fire, maybe they are war veterans – it's not clear at the moment.
"The soup's almost ready, and I'm ready to stop this discussion about miracles" another states, a note of sarcasm in his voice.  "Like my potter friend here, I'm from up north near Bethsaida.  I once had a thriving business in the marketplace there.  Over the years I've met a number of folks from Nazareth.  But that was before this happened to me.  Anyway, like I was saying everybody knows nothing good could ever come out of Nazareth.  If this Jesus is from there, he's no miracle worker."
Another speaks, his voice cracking with age.  Yet the men listen to him with a respect reserved for one who speaks with the wisdom of many years.  "Yesterday people in town said Jesus of Nazareth recently visited Jerusalem and there he healed a crippled woman and a man who could not walk.  He had a condition the physicians call dropsy.  He healed that man on the Sabbath day and created quite a stir."
"Yes, but what about us?"  The old man was interrupted by another.   "We're all in this thing together.  I'm only thirty years old.  I have a wife and children, and was ready to go into business for myself as a tentmaker.  But now my wife and family have returned to the home of her father.  I may never see them again.  I'm forced to spend my days begging and my nights with you vagabonds.  I think I could still work with my hands and make the best tents ever, but who would buy them?  Nobody would even touch them.  'Unclean!' they would say.  What about us?  Could this Jesus heal lepers like us?"
"I've been told by a reliable source" the old man continued, "that Jesus healed a Galilean not long ago of leprosy.  In fact, some say that this man is traveling around bearing witness to his healing and telling people that Jesus of Nazareth is the Messiah."  The eyes of the men are all on the old man now.  A glimmer of hope has made the soup seem unimportant for the moment.
"Do you believe it's true?" the young tentmaker asks.
"It could be" states the elder.  "I don't really care if Jesus of Nazareth is the Messiah or not.  I'll let the experts decide that.  But if this Jesus can heal, I must see him.  I'm an old man and may never have a chance like this again.  I dread the thought of dying as a leper, an untouchable.  Why, no one would even give me a proper burial.  I don't know about you, but tomorrow when Jesus of Nazareth comes, I'm going to be waiting, within shouting distance of him.  If this Jesus is as kind and merciful as they say he is, I intend to get his attention.  And then I'm going to ask him to heal me."
"What have we got to lose?" asks the rabbi.  "Let's go with him.  Surely a group of ten men together will have a better chance to get His attention."
So one by one each agrees to go in the morning and join their voices with the voice of the old man.  They eat their soup in silence, each deep his own thoughts.  Some are skeptical, with a cynicism borne by years of bitter suffering and rejection.  Others finish their gruel and drift into sleep with dreams of love and family, employment and full stomachs.  Others lay awake, for the first time in many days looking forward to tomorrow and wondering what it will bring forth.
The morning dawns as bright as the expectation of what life could have been for these ten if it were not for leprosy.  Leprosy!  How they despise the word!  Leprosy!  To them the word means isolation and ridicule, poverty and vagrancy, hunger and despair.
Most of all, the word means unclean.  They did not ask for this curse, it just happened.  Oh, at first each tried to hide it.  But you cannot hide something like this for long.  And then came the inquisition, and then the meeting with the priests and finally the pronouncement of that vile word "unclean!"
As wretched as their wounds, even more wretched is their destiny.  Forced into isolation from healthy people, the leper is required to warn all who approach by calling out "unclean, unclean."  Even the most spirited individual is soon beaten down in such a condition.
One can't really expect others to understand a disease they are not afflicted with.  Most associate the plague with the person.  So lepers take their place in society as less than second class citizens.  In fact, they are treated worse than dogs by most.
There is not a moment of the day that these men are not keenly aware of what this disease has done to them – and what it has taken from them.  Leprosy!
There is not a day that goes by that each doesn't ask the inevitable question:  "Why me?"  Obsessed by those words, they repeat them over and over.  "Why me?  Why me?"  But the answer never comes.  The silence echoes through their minds, constantly haunting their vacant souls.  Only a rational defense can break the silent spell.  Each one reasons:  "Surely I've never done anything to deserve this."   Or worse, "Maybe I do deserve this."
Thus finding no meaningful purpose for their plight, their tormented minds ponder another question.  A question that at least tends to soothe their wounds with the balm of fantasy:  "What if?"
"What if I were still a successful businessman?  I would never again take for granted my position.  I would give more than a paltry sum when alms for the poor were received.  Yes, I'd be more compassionate to the downtrodden and the needy."
 "What if I were still able to live at home with my wife and children?  I'd never again resent having to feed those extra mouths.  I'd smile when the children needed new clothes, thankful for the ability to provide for a growing family."
 "What if I were an esteemed teacher in Israel?  I had such a promising future.  My mentor said he had never taught a student with such insight into the Scriptures.   He once said I had a gift for teaching that would make my name prominent in Jerusalem, and I would be sure to use that gift to the best of my ability for God's glory.  I would still have a home of my own.  I would be welcome in any synagogue.  And whenever I saw a leper, I would consider:  'There, but for the grace of God, go I."
But as always, the stark realities of their existence soon terminates their brief respite of fantasy.  As diverse as they once were, they are now welded together by the white hot fires of suffering.  Leprosy, an unwelcome guest which suddenly invaded their lives, has thrown them together as surely as it cast them out of society and away from family and friends.
But today is different as the ten shuffle off together toward town.  Today there is hope.  Together they have formed a plan, tied to an incredible possibility.  Surely they have little to lose.  Their fate is already sealed anyway.  Why not believe the impossible?  Onward they proceed as faith replaces their fears.
They position themselves on the side of a road, the road by which Jesus is coming this day.  A crowd is already gathering in the early morning chill.  Soon the crowd becomes a multitude and some say "You lepers, get out of the way.  We don't want you here.  Make room for us."
If only one leper had been there, he could have been persuaded to move.  But ten, together, had formed a determined defense.  They had lost much.  They had nothing more to lose.  They made up their minds.  They would not move.  And they would not be moved by force of hand, for no one dared touch them, or even come close for fear of the curse.  So they held their ground.
Soon the noise of the multitude reached a fervent pitch in the ears of the ten lepers.  "It's him.  It's Jesus!" they hear.
A thousand questions race through their minds.  "Will he come our way?  Will he hear us?  Will he care?   Could he heal us?  Will he heal me?"  Now they see the object of the crowd's attention.  They see Jesus of Nazareth.
"Yes it is him," they agree.  "Now is our chance, we must act!"   Over the tumult of the crowd, with one mighty effort they raise their collective voices in a great shout of "Jesus, Master, have mercy on us."  The multitude grows silent.  Jesus turns, and spots the ten.
No one needs to offer an explanation.  Daylight reveals the obvious about these men.  Still, the embarrassed leader of the local synagogue speaks up, "Jesus, those ten lepers are vagrants.  Just beggars and not at all like the fine citizens of our community."  But Jesus does not even acknowledge the man.  The ten lepers now have his full attention.
"What will he do?  How will Jesus respond?  Will he wave us away so he can visit with the "respectable" citizens of the community?" the lepers wonder.
With their eyes riveted on him, they hear Jesus say "Go, show yourselves unto the priest."
"What kind of a command was that?  Doesn't he know that it was the priests who pronounced us as 'unclean' in the first place?" they ask.   As they look at each other, they see nothing that would change the priest's diagnosis of their condition.
"But there was something compelling about the way he spoke," replies the former Pharisee.  Once again their gaze moves from each other back to Jesus.  "Yes, and there is something about the way he looks at us.  His smile is not a smile of mockery, but a smile of compassion," says the sandalmaker.
One by one, in obedience to his voice, they proceed.  They are off to find the nearest priest.    Whether they believed before or not, as they walk along, each experiences a miracle of transformation.  Leprosy, the despised disease will plague them no longer.  Every man is healed and given a new lease on life.  Gone are the scars, the deformities, and the open sores.  Gone also are the stares of people as even missing extremities are replaced with new ones covered with skin as smooth as a baby's.
Running and jumping, shouting with ecstasy, they proceed to their destination.  Along the way, the Samaritan ponders "Why should I go to a Jewish priest? I won't be accepted by him."  He remembers the stinging pain of rejection even before leprosy had afflicted him.  "You fellows go on ahead, perhaps I'll see you later" he says.  "I've got some unfinished business."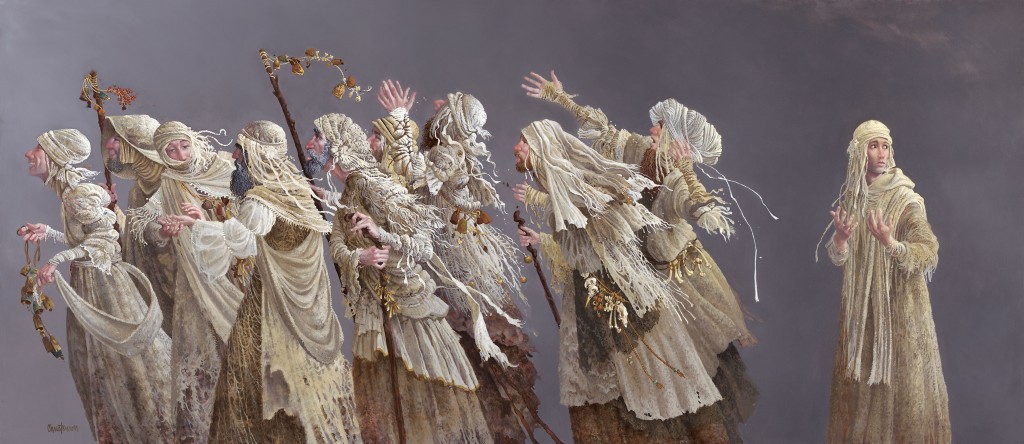 The other nine don't seem to mind that he left the group.  In fact, now that they are all normal, it just doesn't seem right for them to be associating with a Samaritan anyway.
Filled with a riot of emotions, the Samaritan tries to clear his mind as he formulates a plan.  "I will go show myself to a priest who won't reject me because of my ancestry or birth.  I will present myself to a priest who seems to understand, and be touched by the way I feel."
He makes his way back to the crowd, back to where Jesus is.  Cleansed of his disease, he falls prostrate at the feet of the One who made it possible.  His hands, once deformed by leprosy, now clutch the feet of Jesus.  He cries with a joy known only to one who has experienced sudden freedom after escaping from the prison of deep suffering and rejection.
Overcome with emotion, and struggling to form the proper words he speaks:  "Thank you, Jesus.  Thank you.  I was as good as dead.  Now I live again.  Thank you."  But mere words seem inadequate to express the appreciation he feels.  From his inner soul he sobs deeply as tears of joy fall on the feet of Jesus, his real High Priest.  There is no pretense, no show.  His gratitude is sincere.
"Were not all ten cleansed?" Jesus asks.  "Where are the other nine?  Was no one found to return and give praise to God except this foreigner?"  Jesus was addressing the crowd, not the man at his feet.  Looking tenderly at the healed man he said "Rise and go; your faith has made you well."  (Luke 17:17 NIV)
Only one returned to give thanks.  Ninety percent went on their way, more enthralled with the gift than the giver.  Jesus healed them anyway, "for He is kind unto the unthankful and to the evil."  (Luke 6:35 KJV)  It is this great kindness of the Savior which ought to make us want to offer thanks.
The Samaritan leper knew what he had been saved from.  For this he expressed thanks to the One who made it possible.  Jesus became not only his healer, but his Savior.
What would your life be like today if you were still being eaten alive by the leprosy of an unchanged sin nature?  What parts of your life would be missing?  How much would be broken, ugly and scarred?  Do you remember what it's like to feel absolutely hopeless, knowing that even those who love you best are powerless to meet your deepest needs?  Can you recall when you looked to Jesus and He healed the leprosy of your sin, forgiving and removing the ugliness?  How you wondered in amazement at how He is restoring the missing and broken parts of your life as you go on your way?  How long since you've returned to your High Priest, to fall at His feet and express your highest gratitude?
Like the leper who returned to give thanks, may we also be grateful not only for what Jesus has done for us, but for what He has spared us from.   "Thanks be to God for His indescribable gift!"  (II Cor. 9:15 NIV).
(Story based on Luke 17; ©2013 Don Detrick)