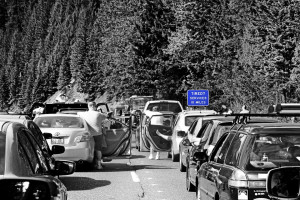 Life's darkest corridors are detours–places of waiting and wandering along an unfamiliar path where negatives often develop.  Yet those dark rooms are also often God's appointments for building His character in our lives, accomplishing His purposes, and leading us into the bright light where we can clearly see the path ahead.
Disappointment and discouragement become opportunities for grace and growth if we look for them during those dark hours and days of waiting or wandering. These detours become the hidden pathways on our journey where we discover things about ourselves and also about God that we would never discover in the full light of day. We should be grateful, because God uses detours to direct us and also to protect us.
When I took the above photo on Interstate 90 about an hour east of Seattle it was a warm summer afternoon and I was anxious to return home after speaking that weekend in a church on the east side of the state. It was not to be as I anticipated because we spent hours just waiting on the freeway. And those other drivers and I never knew the reason for the delay. But I know for certain that whatever the cause, the delay and detour of my schedule was for the good and protection of someone. Hopefully our delay prevented disaster for someone else, and perhaps for us.
After the death of Christ, but before the resurrection, there was a process of waiting—another detour.  Someone has written,  "Disappointments, His appointments, change one letter and I see, that the thwarting of my purpose, was God's better choice for me."  Each day, countless numbers of people, among whom are committed Christians, experience disaster, disease, or death in their lives or in the lives of their loved ones.  Their initial response is often denial or unbelief.  Healthy people work through this process to arrive at a place of acceptance, hope and healing.
The unhealthy alternative is to allow disappointment to turn into cynicism and negativity.  The natural thing is for disappointment to lead to discouragement.  Discouragement leads to despair.  Despair leads to depression.  Depression leads to disillusionment.  And disillusionment ultimately leads to disengagement – isolation from everyone and everything that has the potential to hurt you.  This is a vicious cycle that can be interrupted by the loving intervention of friends or by simply learning to watch for God's grace to appear and for ways to grow during that dark season of our soul.
Every seed must be buried in a dark place in order to sprout and grow. And it often is so with our hopes and dreams. The detour in your life may be the place of waiting or wandering where the seeds of endurance  germinate and you establish strong roots to sustain you for what lies ahead.
"Wait on the LORD: be of good courage, and He shall strengthen your heart: wait, I say, on the LORD."   (Psalm 27:14)  I think about those words, first written by David more than 3000 years ago.  How many people have clung to that verse over the past 30 centuries? For most of them, the wait is over.  For us, the wait goes on and we are uncertain about when the detour on our journey will be over.  But we can be certain about the one thing that makes waiting and wandering endurable:  grace and growth – and the hope that God is using these circumstances to fulfill His purposes and our destiny.