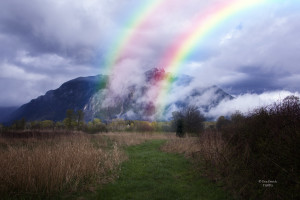 What if God is using your disappointments and detours to help you discover your destiny? Like seeing a rainbow suddenly appear after being pelted by driving rain, we may discover our destiny after enduring a cloudburst or a seemingly endless season of life's stormy weather. The rainbow was God's symbol of hope to Noah following the storm to end all storms. Jesus and the cross become our symbols of hope during seasons of suffering.
"Looking unto Jesus the author and finisher of our faith; who for the joy that was set before him endured the cross, despising the shame, and is set down at the right hand of the throne of God" (Hebrews 12:2).
Where are you looking for help? What symbolizes hope for you? Does your mind have a vision of hope to keep you secure when facing the tormenting passion of fear?  How do you deal with the fearful dread in your heart when the thunder roars, the rain pours, and your roof leaks?  What do you do when the worst-case scenario interrupts your plans with unemployment, cancer or broken relationships?  Do you start looking for people to blame, or do you start looking for hidden blessings, opportunities to receive God's grace and opportunities for you to grow? What gives you hope and encouragement? The hopeful heart looks to Jesus. And the hopeful heart is not a trembling heart.
Think about how Jesus felt on Palm Sunday–His trust and obedience to His Father's will was a stronghold for His mind and gave Him courage to act appropriately instead of jumping off the donkey and running to hide in some remote cave.  Facing the worst-case scenario of all time – agonizing death, cut off from His Father, bearing every horrible, disgusting sin the world has ever known – Jesus pressed on.  He rode into the city with a quiet confidence and dignity because He had knew that His destiny and hope for suffering mankind came by way of His suffering on the cross.  And the cross of Christ made all the difference for you and me:
The cross is where history and life, legend and reality, time and eternity, intersect. There, Jesus is nailed forever to show us how God could become a man and a man could come to God.[1]  ~   Malcolm Muggeridge
Remember, as long as we live, the road to our destiny is always under construction. We should not be surprised when there are detours and delays along with disappointments. The key is staying with Jesus through those dark nights of the soul. It is easy to fall away and lose hope. It requires faith to hope for and receive what we do not see.
What have you hoped for? Have disappointment or discouragement kept you stuck in the waiting room of disappointment? What is the next step Jesus is leading you to take? That step may be marked, "Detour," but it could you to from that waiting room to your destiny.
[1]Malcolm Muggeridge (1903–1990) Edythe Draper, Draper's Book of Quotations for the Christian World (Wheaton: Tyndale House Publishers, Inc., 1992).