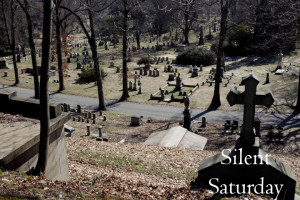 Saturday of Holy Week was a Sabbath of silence. And silence can be deafening. Grief is best articulated in sobs. Peter wept bitterly and suffered in silence because what he said secretly by cursing and denying Christ was the exact opposite of his stated public intention. His friends having silently scattered, few were left to witness Jesus' death on the cross. The astonishment of incredulous circumstances left them mute to ponder their own silent questions in secret.
Silence provides time for reflection. The din of constant twenty first century noise creates a chronic state of auditory anxiety that many people accept as normal—so much so that some cannot sleep without ambient noise from a television or radio. Finding a place of silence may require intentionality, and no place is as silent as a graveyard. The death of Jesus had created silence and left Jesus followers alone to reflect on the events of the past days and their own actions. Silence, solitude, and Sabbath are necessary components of spiritual formation. If we don't create these opportunities on our own, God may allow interruptions to our plans and schedules in the form of disappointments and detours which require cessation and silence for a season. Thus, we often suffer in silence and in secret during these opportunities for grace and growth.
But silence and secrets are sometimes interrupted by the urgent need for speaking and action. Jesus' body was hurriedly prepared for the tomb because of the approaching Sabbath. The disciples having fled, Joseph of Arimathaea went to Pilate and begged for the body of Jesus. Each of the Gospel writers record this fact and more:
Matthew (27:57) tells us that Joseph was wealthy and a disciple of Jesus who wrapped Jesus in a clean new cloth and placed him in his own newly prepared tomb for burial while two women (Mary Magdalene and the other Mary) watched.
Mark (15:43-45) records that Joseph was a member of the Jewish high council, and that he courageously went to Pilate and requested the body of Jesus.
Luke (23:50-54) states Joseph was a good and just man, and he had not agreed with the decision of the high council to turn Jesus over to the Romans for judgment.
John (19:38-42) provides even more detail, calling Joseph a "secret disciple" and revealing his partner Nicodemus (another secret disciple who came to Jesus by night -John 3) helped him retrieve and prepare Jesus' body for burial.
Silence gives way to song.  The silent suffering of incredulity was interrupted by the dawn of a new day and with it the resurrection of Jesus. Seeing Jesus alive and well turned on the light of revelation and dispelled the doubts of incredulity and grief. Followers of Christ have been singing about it ever since, not in secret silent solitude, but in open jubilant communal praise and worship.
During the Easter season of 1874, while having his devotions one evening, Pastor Robert Lowry reflected on the events associated with Christ's resurrection, especially with these words recorded in Luke 24:6, "He is not here, but is risen."
Being a musician, Pastor Lowry sat down with the pump organ so common in homes of that era, and wrote the inspired words and music of "Christ Arose." The silence of Saturday's Holy Sabbath gave way to the lyrics congregations have joyfully sung on Easter ever since:
Low in the grave He lay, Jesus, my Savior, waiting the coming day, Jesus, my Lord!
Vainly they watch His bed, Jesus, my Savior; vainly they seal the dead, Jesus, my Lord!
Death cannot keep his prey, Jesus, my Savior; He tore the bars away, Jesus, my Lord!
Refrain:
Up from the grave He arose, With a mighty triumph o'er His foes, He arose a Victor from the dark domain, And He lives forever, with His saints to reign. He arose! He arose! Hallelujah! Christ arose!