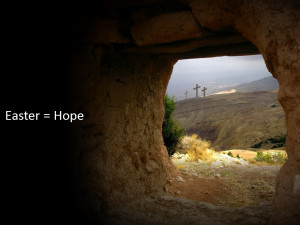 Easter is all about hope. Hope when things seem hopeless. Hope when life's challenges hit you like an avalanche of trouble that freezes your ability to move forward by its icy grip. Hope when your dreams are shattered. Hope when your confidence is shaken. Hope when your faith is hanging on by an invisible thread to the only life preserver keeping you from drowning in a sea of despair. Hope that does not deny reality, but sees beyond the current circumstances to a time when your shattered dreams and shaken confidence will be resurrected with fresh vision and vitality.
Hope will sustain you during moments of crisis and seasons of suffering. It will provide you with determination to overcome disappointment. It will instill courage to keep you talking that next step on your detoured pathway. And it will inspire perseverance to keep believing in your destiny despite the persistent questions that troubling circumstances throw your way.
Above all, hope in the resurrection of Christ provides a narrative and context for every situation of life. It provides an over-arching and eternal perspective on every puzzling picture we view and try to interpret this side of heaven.  Faith in a risen Savior makes all the difference. "Because I live, you shall live also" Jesus said (John 14:19).
Paul put it this way:  "And if our hope in Christ is only for this life, we are more to be pitied than anyone in the world. But in fact, Christ has been raised from the dead. He is the first of a great harvest of all who have died" (1 Corinthians 15:18-19 NLT).
Maybe you have watched the television series, Resurrection. In it, people in a small Missouri town are amazed to discover people walking around who had died years ago, looking just like they did before they died. One of the main characters was a pastor, but there isn't much theological or biblical truth in the show. In typical Hollywood fashion, the resurrected people will probably turn out to be aliens.
The Gospel of Jesus Christ is a fable about aliens, and it is not just a story that history forgot. It is as relevant today as it was 2,000 years ago because Jesus rose from the dead and lives today. Peter was an eyewitness to those events, and his testimony provides encouragement and hope to us, despite our circumstances, to keep believing:
Blessed be the God and Father of our Lord Jesus Christ, who according to His abundant mercy has begotten us again to a living hope through the resurrection of Jesus Christ from the dead, to an inheritance incorruptible and undefiled and that does not fade away, reserved in heaven for you, who are kept by the power of God through faith for salvation ready to be revealed in the last time.
In this you greatly rejoice, though now for a little while, if need be, you have been grieved by various trials, that the genuineness of your faith, being much more precious than gold that perishes, though it is tested by fire, may be found to praise, honor, and glory at the revelation of Jesus Christ, whom having not seen you love. Though now you do not see Him, yet believing, you rejoice with joy inexpressible and full of glory, receiving the end of your faith—the salvation of your souls.  (1 Peter 1:3-9 NKJV)
HAPPY EASTER!