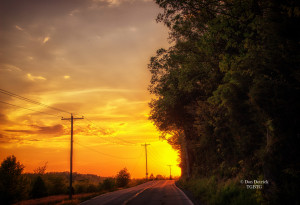 On the road to Emmaus, Jesus took the time to offer an explanation to his two questioning friends who were searching for an explanation, for a reason behind all the events they had experienced. He understood the sorrow and disappointment they felt, the loss that had blinded their eyes with tears and dampened their hearts with grief.
"Jesus quoted passages from the writings of Moses and all the prophets, explaining what all the Scriptures said about himself" (Luke 24:27, nlt).
Jesus is a gentleman. He patiently listened and explained. They had an engaging conversation. As they walked, they approached their destination. He did not invite himself in for dinner. He will not force himself on anyone. He will respond to an invitation, though. He waits patiently for each of us to invite him into our heart. He says, "Behold, I stand at the door and knock," (Revelation 3:20, nkjv).
Cleopas and his friend invited Jesus in and he joined them for a meal. Jesus wants fellowship with us. He wasn't angry with them. He loved them and was concerned for them. As Jesus blessed the dinner bread, they suddenly understood. Their eyes were opened and they immediately knew who he was.
Along with that revelation came something unexpected. God is always doing things we don't expect. He vanished out of their sight. But even though they couldn't see him with their physical sight, their spiritual eyes were opened. That is what happens when we journey with Jesus; we walk by faith, not by sight.
An encounter with Jesus changes everything. They had seen the Lord and their emotions went from confused sadness to elated gladness. Excitedly, they told each other how their hearts had felt strangely warm as he explained the Scriptures to them as they walked down the road.
When we can't clearly see the road ahead because our vision is blocked by tears or by the tangled web of weedy circumstances, we must focus on Jesus. Once we see him, he gives us vision for the road ahead and shows us the way. He can turn our "Why?" into "Why not!"
I don't know which lonely Emmaus Road you may be traveling. But I am sure that Jesus is with you, even if you don't see him or recognize his presence. And when Jesus accompanies us on the road less traveled, it makes all the difference.