"Merry Christmas!" Greetings exchan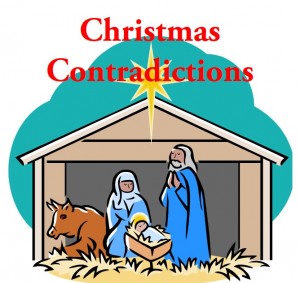 ged and acknowledged with a glance and perhaps a contrived smile. After waiting in line at checkout and then waiting in another line for the checkers at the door to draw a squiggly line through our receipt, perhaps what we really mean is, "Let me out of here. I'm tired of waiting in lines, and feeling claustrophobic from the crowded aisles. I'm tired of driving in circles to find a parking space, and then needing a GPS to remember where I finally parked!"
Maybe it's just me, but it seems like life is full of contradictions, especially at Christmas. We hurry up to have a little time to slow down. We exchange greetings with strangers and sit silently with members of our own family that we have lost touch with. We make small talk when we are deep in thought about what we would really like to say. We spend too much on gifts nobody needs while worrying about how we will pay for it all. We talk about the weather outside and hide the storm brooding inside our hearts. We celebrate peace on earth and goodwill toward men while our countenance shoots daggers at the person who pulled out in front of us or stole the only remaining parking spot we had already claimed as our own from two rows away.
Yet if we slow down long enough to reflect on our motives, I suspect we will discover something at a deeper level. We really do have good intentions. We really don't wish harm to anyone. We really do have deep longings for connection, for peace on earth and peace at home. We really do want to be generous. We just don't slow down long enough to drink deeply enough from those wells of meaning to find satisfaction or significance in our hurry, worry, and scurry. The end is somehow lost in the means. Our actions contradict what is truly in our hearts and we are left spent—physically, emotionally, and spiritually. The empty feeling we are left with contradicts all of our good intentions.
So remember this, sometimes it feels like everything is about to fall apart when in reality things are just about ready to come together. Surely that is how Joseph and Mary felt when they could find no room in the inn, or when they were forced to escape to Egypt, or when people called their son illegitimate. Hardship and heartache walked hand in hand with happiness and hope.
There often exists a contradiction between our circumstances and God's divine destiny. Being happy is not incongruent with being harried or hassled. And unfavorable circumstances do not always lead to unfavorable outcomes. Three eternal things make the difference: faith, hope and love. If you can anchor your heart and actions on these, and take a little time to reflect on what is really important, while examining your motives behind your actions, you will minimize the contradictions and maximize the intended consequences.
Merry Christmas!  ©2013 Don Detrick