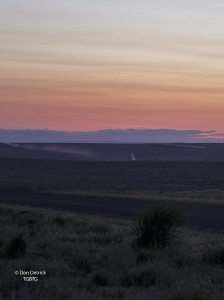 On the Emmaus Road, late afternoon shadows lengthened as Cleopas and his buddy were walking along and asking questions—probably rhetorical questions. They may or may not have expected answers, but they needed to ask the questions. Their questions represent the dilemmas many of us face in the journey of life:
 "What are we going to do now? What is going to happen to us?"
"If He did rise from the dead, how did he do it?"
 "Why did this happen to a good guy like Jesus? He didn't deserve to suffer like that."
The Bible says "they communed together and reasoned…" (Luke 24:15, kjv). The Greek word for "reasoned" is suzeteo and means "make a thorough investigation." These guys wanted to know what was going on. They were posing the questions of suffering that everybody asks at one time or another.
First, we want to know "What happened?" or "How did this happen?" This is the quest for details. We want to understand fully the whole story. Like hearing the news of a friend's sudden death, we want to understand how it happened. Was it an accident or a sudden illness? We want to know who, what, when, and where. Details of information will be passed back and forth to satisfy our need to know.
Second, "Why did this happen?" This is a more profound question, and one that consistently persists. Once we know how, we want to know why. The "why" questions are always the most difficult, indeed they are life's most persistent questions. They often defy solution. We search for reasons. Like Cleopas and his buddy, we investigate and seek answers, even though they often can't be found in the here and now.
"Why did Jesus return to Jerusalem if He knew people wanted to kill him?"
"Why did Peter deny Jesus?"
"Why did Judas betray Jesus and then kill himself?"
"Why didn't Jesus stop the people who were killing him?"
 "Why didn't we all stick together?"
When we are troubled, it is helpful to remember that Jesus walks with us on our journey of life. He is never distant or far away. While these disciples were walking along and trying to figure things out, Jesus drew near to them. During troubled times we may think God is a million miles away. Panic sets in when we feel abandoned. We don't usually make good decisions when we are in a state of panic or fear. And fear makes a poor lens for viewing life. It distorts reality and magnifies problems. It makes God appear to be far away while trouble appears to be next door.
Jesus is as close as the mention of his name. The Bible is full of promises about God's nearness and comfort during our times of sorrow and grief. The journey may get rough at times, but Jesus will strengthen our faith as we recognize his presence and trust the promises of Scripture:
God is our refuge and strength, an ever-present help in trouble. (Psalm 46:1)
God did this so that men would seek him and perhaps reach out for him and find him, though he is not far from each one of us. (Acts 17:27)
For He Himself has said, "I will never leave you nor forsake you." (Hebrews 13:5, nkjv)
… surely I am with you always, to the very end of the age. (Matthew 28:20)
Be strong and of good courage; do not be afraid, nor be dismayed, for the Lord your God is with you wherever you go. (Joshua 1:9, nkjv)
Never forget:  Jesus is bigger than your questions, and as close as the mention of his name.