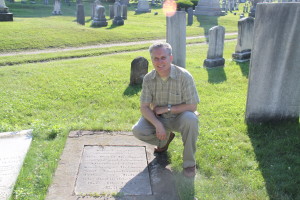 I like to visit cemeteries, like this old one in Northampton, Massachusetts, where I visited the grave of Pioneer American missionary, David Brainerd. I know that seems odd to most people. But there is something about visiting a cemetery populated by reminders of the past that makes me more aware of the present. And I always enjoy the history provided there, causing me to reflect on the legacy I might be able to leave behind, or not, depending upon what I do today and whatever tomorrows I have left on this earth.
As a boy growing up in rural Oregon, Memorial Day meant noisy boat races in the nearby Willamette River and a ritual my parents carried out as a sacred duty. They called it "Decoration Day" as it was a day for decorating the graves of our departed family members. Rising early in the morning, we would enter our yard and garden to pick the flowering white blossoms of the snowball tree, pink peonies, orange and yellow day lilies, red rhododendrons or azaleas– anything that happened to be blooming at the moment, colorful and fragrant. Dad was particularly fond of iris, which he always called, "flags." These cut flowers were carefully arranged in Mason jars and off to the cemetery we would go. My parents would reminisce on the way there and back about relatives I never knew except what I gleaned via those conversations.
Today, many Americans have no idea why we celebrate Memorial Day, viewing it only as a reason for a 3-day weekend.  I once asked an Israeli cardiologist who was a resident at Cedars Sinai Medical Center in Los Angeles what he thought about living here. He replied, "I don't understand your Memorial Day. In Israel it is a very sacred and serious day when we remember those who have died and given their lives for our nation. In America, it is a huge shopping day and sale."
Memorial Day has traditionally been a day of remembering the many heroes who lost their lives during the Civil War and other wars in which the United States has been involved. All told, more than 1.35 million lives have been lost in America's wars since our nation's beginning.  However, for many people, Memorial Day is also a time to honor all loved ones who have passed on before us.
The American Civil War was the deadliest war in American history, and the only one fought on our own soil, with more than 625,000 killed on both sides. Three years after the Civil War ended, on May 5, 1868, the head of an organization of Union veterans – the Grand Army of the Republic (GAR) – established Decoration Day as a time for the nation to decorate the graves of the war dead with flowers. Maj. Gen. John A. Logan declared it should be May 30. It is believed the date was chosen because flowers would be in bloom all over the country. The first large observance was held that year at Arlington National Cemetery, across the Potomac River from Washington, D.C.
The ceremonies centered on the mourning-draped veranda of the Arlington mansion, once the home of Gen. Robert E. Lee. Gen. and Mrs. Ulysses S. Grant and other Washington officials presided. After speeches, children from the Soldiers' and Sailors' Orphan Home and members of the GAR made their way through the cemetery, strewing flowers on both Union and Confederate graves, reciting prayers and singing hymns.
In 1966, Congress and President Lyndon Johnson declared Waterloo, N.Y., the "birthplace" of Memorial Day. There, a ceremony on May 5, 1866, honored local veterans who had fought in the Civil War. Businesses closed and residents flew flags at half-staff.
By the end of the 19th century, Memorial Day ceremonies were being held on May 30 throughout the nation. State legislatures passed proclamations designating the day. The Army and Navy adopted regulations for proper observance at their facilities. It was not until after World War I, however, that the day was expanded to honor those who have died in all American wars. In 1971 Memorial Day was declared a national holiday by an act of Congress, though it is still often called Decoration Day. It was then also placed on the last Monday in May, as were some other federal holidays.
Gen. Logan's order for his posts to decorate graves in 1868 "with the choicest flowers of springtime" urged: "We should guard their graves with sacred vigilance. … Let pleasant paths invite the coming and going of reverent visitors and fond mourners. Let no neglect, no ravages of time, testify to the present or to the coming generations that we have forgotten as a people the cost of a free and undivided republic."
The crowd attending the first Memorial Day ceremony at Arlington National Cemetery was approximately the same size as those that attend today's observance, about 5,000 people. Then, as now, small American flags were placed on each grave – a tradition followed at many national cemeteries today. In recent years, the custom for many families is to remember their departed loved ones by visiting cemeteries and cleaning up tombstones, or laying flowers or decorations on graves.[1]
Why do we need a special day to remember the dead?  The answer is simple – it is too easy for the living to forget about them.  Speaking of the dead, the writer of Ecclesiastes says, "For the memory of them is forgotten."  (Ecclesiastes 9:5b NKJV)  He goes on to say, "Whatever they did in their lifetime – loving, hating, envying – is all long gone. They no longer have a part in anything here on earth."  (Ecclesiastes 9:6 NLT)
While dedicating the Gettysburg National Cemetery on November 19, 1863, President Abraham Lincoln said:
It is for us the living, rather, to be dedicated here to the unfinished work which they who fought here have thus far so nobly advanced.  It is rather for us to be here dedicated to the great task remaining before us – that from these honored dead we take increased devotion to that cause for which they gave the last full measure of devotion – that we here highly resolve that these dead shall not have died in vain – that this nation, under God, shall have a new birth of freedom – and that government of the people, by the people, for the people, shall not perish from the earth.
Today we know that to a great extent it was the resolve of President Lincoln that brought an end to both the Civil War and slavery, thus creating a "new birth of freedom."  The United States of America still exists today because of the principles set forth in a graveyard dedication speech, the Gettysburg Address. Thus it is fitting for us who remain in this day to remember and show honor and respect on this Memorial Day in 2015–and maybe visit a cemetery to pay our respects. Who knows, you might actually enjoy it!
[1] Some information taken from "The Origins of Memorial Day" from the Department of Veteran's Affairs office of Public Relations at http://www.va.gov/pubaff/mday/mdayorig.htm.