We often live our lives on the verge. On the verge of success. On the verge of getting out of debt. On the verge of finding a rewarding relationship. On the verge of achieving that sought after promotion at work. On the verge of obtaining the scholarship. On the verge of finishing that degree. On the verge of fulfilling our dream.
The verge is a nice stop on the way to our destination. It is a terrible place to live permanently. If we camp there long enough, it becomes difficult to move on. While camped there we may analyze a million and one reasons why we got stuck in the first place, and another million and one reasons how we might move on, but we tend to be weighted down by the analysis to the point of paralysis, convincing ourselves that it is safer to just stay where we are at. Like I said earlier, passivity is the opposite of courage.
Wait a minute!  Stop the clock! Do not lose courage. Passivity is the inactive response to lost hopes and dreams. It is time for a change. You don't have to live your life always "on the verge." You can move past the verge.
Unlike the Apple Watch which I plan to never buy, I do have an affinity for old clocks. Not old clocks from the 1980's with digital readouts, but really old clocks. Most in my collection are well over a century old, American made, and still working. And I work on them—have for years, both as a hobby and in a practical way to keep my collection running. Working on old clocks has taught me some lessons about systems, and mechanics, and maintenance, and life. They have also taught me about time, and how I use it, how I respond to it, how I measure it. After all, they have a lot to tell by listening to the tick-tock of the pendulum.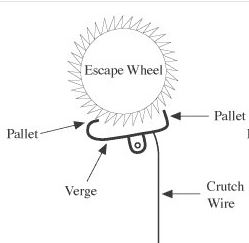 How many mechanical items from a century ago are still functioning with their original purpose today? Not many! You probably don't know that the term verge is a clock word. The verge is that part of a mechanical clock that keeps the pendulum moving back and forth – and keeps the rest of the clock ticking. The actual tick-tock is sound of the verge rocking back and forth, connecting with a toothed wheel that connects to other gears and wheels that eventually move the hour and minute hands, ever so slowly. When it is all synchronized, it is a beautiful thing. It keeps on moving, and keeping perfect time.
A verge is a lot like a tipping point. Malcom Gladwell states in his book, The Tipping Point:   "The tipping point is that magic moment when an idea, trend, or social behavior crosses a threshold, tips, and spreads like wildfire."
What if you could find the tipping point that would move you past the verge? What if you could stop listening to the melancholy melody that keeps you stuck? What if you could re-discover your courage? You can. Listen to another melody—a happier tune that will actually help you redeem the time:
"Wake up from your sleep, Climb out of your coffins; Christ will show you the light! So watch your step. Use your head. Make the most of every chance you get. These are desperate times!"   Ephesians 5:14-16 The Message
"Make the most of every chance you get."  The old King James Version actually instructs us, "redeeming the time, because the days are evil." What if you struggled with financial problems, but had forgotten about an old savings bond your uncle gave you years ago? It may be worth $50,000 but if you never redeemed it, you would just be holding on to an old piece of paper while continuing to struggle with finances. Time is as old as "in the beginning." To fully take advantage of it, we must redeem it.  My old clocks may be more than a century old, but they have taught me some redeeming contemporary lessons, and I look forward to sharing some of them with you.