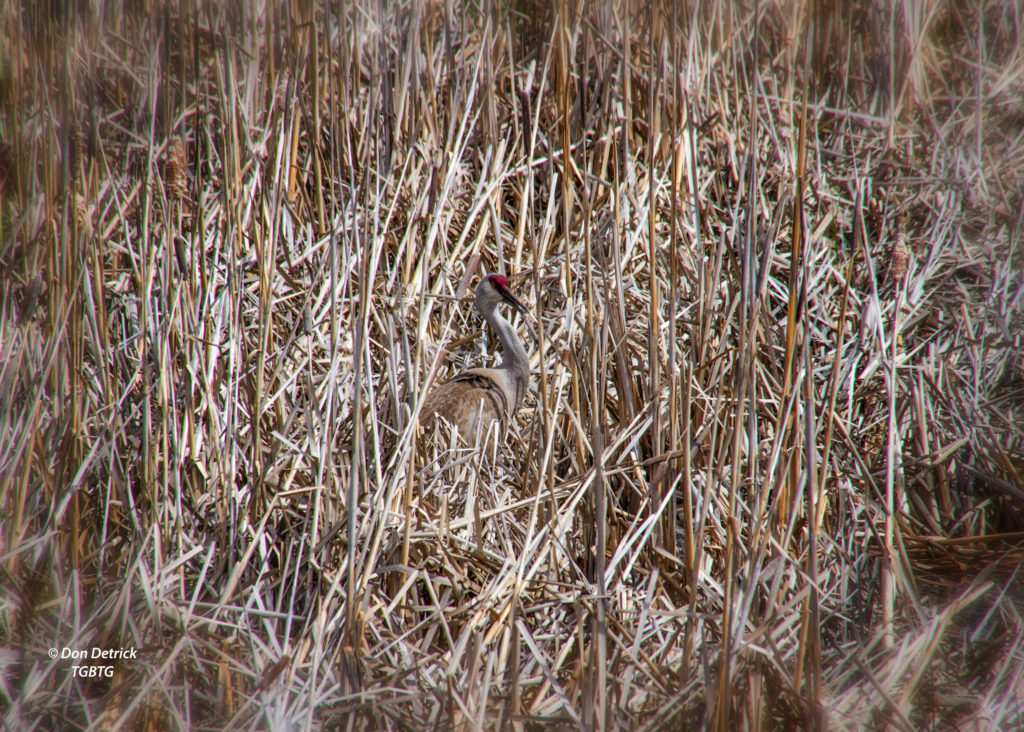 I posted this photo today on Twitter, Facebook, and Instagram, taken last weekend at a wildlife preserve in Park City, Utah. This picture of a nesting sandhill crane, so perfectly camouflaged by its bullrush surroundings in the marsh, almost didn't happen. Except for one thing: before hitting the trail with camera in hand, I stopped by the visitor's center. The very helpful young student at reception responded to my inquiries about the birds in the area and asked me if I planned to go to the tower observation deck on the third floor.
You don't know what you don't know, and I didn't even know that there was an observation deck on the third floor – another good reason to ask questions and listen. She proceeded to tell me that there existed a pair of nesting sandhill cranes in the marsh that most people never see, because they don't know they are there. She handed me a handy enlarged photo of the marsh – a bird's eye view taken from the observation deck – with a big red X marking the spot where the sandhill crane nest sat.
The photos of the cranes are something I will treasure and share with others. And something I would have completely missed because of their marvelous camouflage had I not taken a moment to stop and ask a question, and then followed the student's directions. The 90 minutes I spent there were moments when I sensed the glory of God and his marvelous creation. All the more amazing because I discovered this place right next to a huge shopping complex designed to provide for the masses of people who visit the area to ski, enjoy the former Winter Olympic sites in the area (2002), or attend the Sundance Film Festival. We had eaten lunch there the day before and I had no idea the nature preserve with sandhill cranes and more than 50 other species of birds I would spot the next day was just a few yards away.
I read something today that I think touches on the fringe of where many people are in our culture who are spiritual seekers. Like me, they don't know what they don't know. They don't know that God is near, and that he may be speaking to them through the wonders of life and His creation. For them, I pray that the truth of Hebrews 11:6 will become reality to them: "Any person who comes to God must believe that he exists, and he rewards those who diligently seek him."
That is where faith begins – often with a feeling in the heart that you cannot argue with. It just is there, evoking a sense of wonder and awe, touching the depths of a soul you intellectually aren't sure you possess. Between the heart and the head. Only about 18 inches, but within that space grow the seeds of faith God plants along the way, creating a hedge to bridge the gap between faith and reason.
Even those who describe themselves as atheists (as this author did at one point in his life, although if you read on you will discover he was raised in a conservative Baptist home), eventually find themselves torn by the dilemma between what their intellect says and what their heart tells them. Whether to follow the wanderings and wonderings of their heart leading them to worship God, despite what their head tells them.
This article takes some wading through to discover the gems by the author, a man battling with cancer, also a Yale professor, who states: "I believe that the question of faith—which is ultimately separable from the question of "religion"—is the single most important question that any person asks in and of her life, and that every life is an answer to this question, whether she has addressed it consciously or not." And this piece was published in "The American Scholar" of all places:
The American Scholar: I Will Love You in the Summertime – Christian Wiman
Between the rupture of life and the rapture of language lies a world of awe and witness
THEAMERICANSCHOLAR.ORG