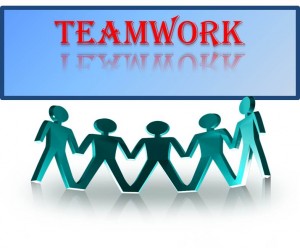 I've worked with some great team leaders who energized and empowered their teams. I've also worked with some who seemed to be aloof, seldom scheduled team meetings or gave direction, and knew how to suck the energy out of the room whenever we did have a meeting. I've also been a team leader, and although my intentions were always to energize and empower, I am certain I fell short on many occasions as tunnel vision, deadlines, and distractions got in my way.
Today Michael Hyatt posted some excellent observations on, "5 Ways to Energize Your Team."[1] Michael has a way of succinctly stating the obvious in a fresh manner, so I am listing his five points and will close with a couple of thoughts:
Assume others are smart and working hard.
Listen intently and ask thoughtful questions.
Acknowledge the sacrifices others have made on your behalf.
Express gratitude for their effort and their results.
Remind them why their work is so important and the difference they are making.
Number one above helps us avoid the fundamental attribution error that occurs whenever we assume our own intentions and actions are good even though circumstances may cause us to be a little off our game (we are smart and working hard), but erroneously assume that others are just slacking off.
Number two is essential for a collaborative environment where people are free to share ideas without judgment. Some people never speak because they know no one is listening. The team loses whenever that occurs. We encourage the hearts of our team members when they know they and their ideas are honored, listened to, and respected.
Number three and four seem to go together. Success is seldom a solo accomplishment. Everyone appreciates a little appreciation, and team leaders need the humility and ability to share the wins by shining the spotlight on the team. Leaders also need to acknowledge what is going on behind the scenes, and how some team members may persevere and discover crucial solutions that could be hidden in obscurity if they are not prone to sing their own praises. For a team leader to keep silent or take credit is a sure way to breed resentment and change the dynamic from team to group of rivals.
Number five is all about the mission, and keeping the purpose in view at all times. Jesus encouraged the hearts of his team members (disciples) in each of these ways. It would be a good Bible study to discover the specific references in the Gospels where he modeled these five behaviors. Here's one example: "For whoever does the will of my Father in heaven is my brother and sister and mother." (Matthew 12:50 NIV) Leadership requires discipleship, which requires follower-ship. As we follow Christ, we will learn better ways to equip and empower our teams and in the process make and become better disciples.