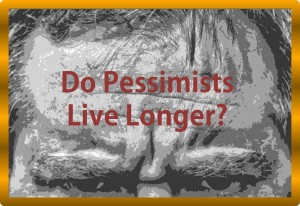 "Thanks for noticing me" defines Eeyore's typical negative self-image and outlook on life, but he might live longer than his more optimistic cohorts in the hundred-acre wood. At least that would be accurate if you accept a news release issued a few days ago by the American Psychological Association. The report indicates a study showed that older people who have low expectations for a satisfying future may be more likely to live longer, healthier lives than those who see brighter days ahead. [1]
"Our findings revealed that being overly optimistic in predicting a better future was associated with a greater risk of disability and death within the following decade," said lead author Frieder R. Lang, PhD, of the University of Erlangen-Nuremberg in Germany. "Pessimism about the future may encourage people to live more carefully, taking health and safety precautions." The study was published online in the journal Psychology and Aging.[2]
While the study allegedly showed a more realistic perspective on life's expectations may be safer in the long run, it misses a bigger question. Who wants to spen
d their days listening to, living with, or working alongside a companion like Eeyore? Tigger's enthusiasm might get him in trouble, and his frantic pace might cause an accident or two along the way, but he surely is a lot more fun to be around than the depressed donkey. Wouldn't you agree?
The Bible's cast of characters far outnumbers Winnie the Pooh's friends in the hundred-acre wood. But among those biblical personalities one can find multitudes of both positive and negative individuals. Some are prone to be one or the other, optimist or pessimist. We see that early on in the biblical narrative, as the jealous and angry pessimist Cain murdered his more compliant and presumably optimistic brother Abel (Genesis 4:1-16). The positive Job worshiped in spite of horrific circumstances, while his negative wife urged him to curse God and die (Job 2:9).
More often though, both descriptors could characterize the same person at different times. Multitudes of biblical characters were both/and when it came to personalities and perspectives. And circumstances often dictated their positive or negative response. Their outcomes however, depended largely upon their attitude of faith and hope in spite of adverse circumstances. Here are a few brief examples:
Faithful Moses triumphantly led the children of Israel across the Red Sea, but failed to enter the Promised Land himself because of an angry act of disobedience.
The shepherd David became a hero as he single-handedly defeated the giant Goliath with a slingshot, but his biography also shows times of discouragement, depression, and defeat. Read Psalm 55 as an example.
Elijah fearlessly faced the prophets of Baal, but ran in fear from Jezebel.
Peter walked on water, but also denied the Lord and dejectedly left the ministry to return to his fishing business.
Paul could describe his own wretched sinfulness, but also declared he could, "do all things through Christ."
For each of these individuals, it would not be fair to judge their entire lives by a few events, and there are countless others with similar shortcomings. The examples I cited are only a small glimpse of what would become the big picture and final outcome of their lives.
We are seldom defined by a single action or moment in time. But repeated actions and attitudes become patterns. Those patterns then characterize our perspective and resulting behaviors, as well as the perspective others view us by. Better to focus on things that will matter, than trivial pursuits. Better to focus on the positive than the negative. And better to focus on the eternal, rather than the temporal.
Paul wrote that there are three eternal things: faith, hope, and love in 1 Corinthians 13. It is easy to consider these three virtues as abstract platitudes. But they become concrete when coupled with faithful, hopeful, and loving actions. We should never underestimate the power of our attitudes because they govern both words and behaviors. These eternal elements become the building blocks of a significant life, one that is characterized by the positive, not the negative.
Frankly, I have a very personal reason to question the results of the study. German blood runs through my veins. Detrick used to be spelled Dietrich before my ancestors a few generations back Americanized the spelling of the name. My maternal grandparents were German-speaking Swiss who immigrated to this country a century ago. If my family is any indicator, we could naturally tend to be a pessimistic bunch. We are prone to toggle between, "Thanks for noticing me" and, "You better notice me, and I don't mean maybe!" In any event, it is interesting that the study which concluded pessimists might live longer took place in Germany with only German participants. Hello! Does anybody besides me think that might make a difference and skew the results?
Even if the study is correct, would you rather live a bit shorter life and be happy, or live longer and be a grouch? Thankfully we have more choices to select from, like this sound advice from the writer of Proverbs:
"My child, never forget the things I have taught you. Store my commands in your heart. If you do this, you will live many years, and your life will be satisfying. Never let loyalty and kindness leave you! Tie them around your neck as a reminder. Write them deep within your heart. Then you will find favor with both God and people, and you will earn a good reputation. Trust in the LORD with all your heart; do not depend on your own understanding. Seek His will in all you do, and He will show you which path to take." (Proverbs 3:1-6 New Living Translation)
Regardless of your ethnic background or personality type, you can decide to control your attitude. So choose to take the path of faith, hope, and love. It might just be the best formula to increase your days. At least it will bring more loyalty, joy, and kindness to your abode, and make the environment more pleasant for the other residents you meet in your own hundred-acre wood. You will be thankful you did, and they will notice you, too—in a good way. Long live the optimists!