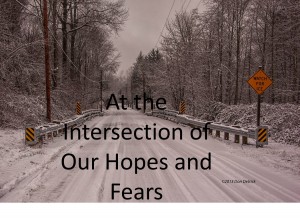 "The hopes and fears of all the years are met in Thee tonight."
We exist in a contradiction of emotions. Moments of great faith and courage. Moments of great fear and trembling. But between those extreme moments, we often swim in a sea of ambivalence. Tumultuous waves of fear, doubt, hate, anger, self-loathing, and cynicism threaten to drown our hopes, dreams, faith, love and peace. We search for a life preserver to keep us afloat long enough to survive.
We must face negative realities in order to survive, but focus on positive ones to thrive. What if we could find solid footing to maintain serenity in the midst of a storm of adversity? What if we could remain peaceful and calm when the waves of despair threaten to capsize our vessel? What if we could hold onto virtue during moments of weakness when tempted to compromise our values? What if there really was a life preserver to keep us from drowning in that sea of ambivalence? What if we could overcome our fears with hope?
At the intersection of our hopes and fears we find the babe of Bethlehem. During his human lifetime, that baby grew into a man who would calm storms, stop angry waves, offer the tender touch of healing and forgiveness. He would provide courage to a widowed mother, sight to a blinded beggar, a place at the table for the hungry, downtrodden and oppressed, freedom to one enslaved by the chains of demons, and tender mercy to a woman caught in adultery. Ask any one of them. Ask any one of the countless others named and unnamed in the Gospels. They will tell you. Jesus Christ met them at a moment when they were about to go under, capsized by fear. But his touch, his glance, his word made the difference. Hope.
Heaven and earth intersected in Bethlehem more than 2,000 years ago. God came down to human level to show us his heart and compassion. Hope met fear. And hope won.
It's not about Bethlehem. It's about that baby boy who spans the centuries and more. He spans eternity. And his love spans the chasm between our sea of ambivalence and the solid ground of his destiny. That's why pastor Phillips Brooks penned those words more than a century ago. We hear them sung today in shopping malls and sanctuaries: "The hopes and fears of all the years are met in Thee tonight."   ©2013 Don Detrick